FAQ - Photos Takeout for Mac
Tips and troubleshooting guide on how to export photos from your Mac Photos library using Photos Takeout. You can find a more detailed, up-to-date version of the FAQ in our in-app User Guide.
GENERAL
1) Why not export photos with Apple Photos? How is it different with Photos Takeout?
Exporting multiple albums or years with Photos gives you one humongous folder - but Photos Takeout saves them in proper folders. Also, if you have photos in different formats (JPEG, TIFF, RAW, PNG etc.), Photos converts them all into one format (JPG, TIFF or PNG), whereas Photos Takeout preserves original formats. And if you export both edited and unedited HEICs, Photos converts them all to JPG. Photos Takeout keeps unedited HEICs as HEIC. Many other differences!
2) Can Photos handle my 2TB library?
Yes, there is no size limit. Use the Power version for libraries of up to 50GB; Pro Power version for larger libraries.
3) Does Photos Takeout export photos in the original resolution?
Photos Takeout preserves image resolution. It does not alter photo quality.
4) Does Photos Takeout preserve metadata when exporting photos?
Yes. Check 'Keep metadata' box to retain all the EXIF and IPTC metadata, as well as Title, Description, Location and Keywords added via Photos.
5) Does Photos Takeout work on M1 Silicon Macs? What if I upgrade from old Mac?
Yes, it works on both Intel and Silicon Macs. It will also work if you purchase it on Intel Mac and transfer to M1 Mac.
6) Does Photos Takeout work with iPhoto or Aperture libraries?
No, it is only for Photos. Convert iPhoto library to Photos, then export with Photos Takeout.
7) There are two user accounts on my Mac. Can Photos Takeout run from both?
Yes. Install it in the shared Applications folder. Log in to the App Store from the other account using the Apple ID with which you purchased the app.
SELECTING SOURCE LIBRARY



1) I have multiple Photos libraries. How to change the system library?
Open Photos. Change the current system library to the one that you want to export from, as explained here. Close Photos app, then launch Photos Takeout.
2) I get 'Error: Database is locked message' on launching the app.
This means that Photos or another app has locked the Photos database. Quit Photos and other apps that use the Photos library. Also open Activity Monitor and quit photolibraryd.
3) On selecting Source, the spinner keeps turning for ages. Is the app hanging?
No, just wait. Depending on your Photos library's size and Mac's specs (processor, RAM) it takes a few seconds to several minutes to load the library.
4) It shows zero items in Years and Albums. Nothing happens when I click the Years or Albums buttons. Why?
Click below Source and re-select the system library. This grants Photos Takeout permission to access your Photos library. The photos will load normally after this.
Another reason may be version mismatch, e.g. trying to use a Catalina library on Monterey Mac, or a Big Sur library on Mojave Mac, or (uh) an iPhoto library on any Mac.
EXPORTING PHOTOS
1) App did not export all the photos. Gave error message: "X files exported. Y not found." Why?
Many possibilities:
Photos in iCloud: In Mojave and older, you must download photos from iCloud before exporting. This isn't necessary for Catalina and newer libraries – Photos Takeout does it for you.
Wrong library: If using Catalina or later, and all the missed items are iCloud-based or edited photos, it's because the library you selected as Source isn't your current Photos system library. Correct this, then retry.
Inability to access files: e.g. missing referenced files, hidden photos and other odd cases. A text file of items not exported is saved, so that you can investigate.
No file permission: Mostly with referenced files. See where these are located and that you haven't moved, renamed or deleted them. Contact us with the details.
2) How to download photos stored in iCloud to Photos app on my Mac?
Launch Photos, click Photos > Preferences > iCloud > select Download Originals to Mac. Once they are downloaded, use Photos Takeout to export the required folders. Doing this is necessary only in Mojave or older mac OS.
3) How to export shared albums?
Import the photos to an album under My Albums (not just into the Shared Album in the Shared Album location), then it will be exported just like other photos.
4) How does Photos Takeout handle raw images?
Raw photos can exist in Photos as raw-only or raw-jpeg pairs. For both cases, Photos Takeout exports according to the following rule:
Unmodified check-marked: Only the unedited original RAW file will be exported.
Unmodified unchecked: Only the latest edited JPG version will be exported.
I AM CONFUSED



1) I renamed some pictures in Photos app. Right-clicking a photo and selecting Get Info shows both names. But on exporting, I only see one name. Why?
 Apple Photos stores original as well as edited file names, but Photos Takeout only keeps the edited names. Also, if multiple photos have the same name, they'll be sequentially numbered e.g. Vacation 1.jpg, Vacation 2.jpg etc.
2) My current system library on Mac syncs with iCloud. I also have a library on EHD that's too big for Mac or iCloud. If I set this as my system library for using with Photos Takeout, won't it start uploading to iCloud?
You don't need to upload the photos from your external HD-based library to iCloud – or even to your Mac. Use the following workflow:
Temporarily disconnect the Mac from iCloud. See how.
Connect EHD to Mac. In Photos Preferences, make the EHD library the system library.
Launch Photos Takeout and export whatever you want
Reverse Step 2 (Disconnect EHD; revert to normal Photos and iCloud settings).
3) The photos exported to external HD are zero kB. Error message says "Can't open file because it is empty"
Check that the EHD format is APFS or Extended Journaled, not MSDOS (fat 32) or ex FAT. To check whether EHD format is causing this problem, export a single year or album to your Mac desktop and see if it exports correctly.
4) How to export only selected photos or videos (not folders)?
Do it from Photos app, not Photos Takeout. Select the items and either drag and drop in your desired location or (for more options) click File > Export.
5) Exporting photos changes Date Created to "Today" in Mac Preview (Get Info).
The Creation Date shown by Preview > right-click > Get Info isn't the EXIF date but the file system date i.e. when it was saved to its current location. To check the EXIF date, open the photo with Preview > click Tools > Show Inspector > EXIF.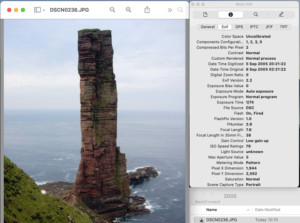 OTHER QUESTIONS?



Please email us through the app, explaining the issue and providing these details:
your Mac and OS version,
how many items in your library,
size of the library (GB),
library location (on Mac or EHD),
location of photos (locally in Mac Photos, iCloud or referenced);
export destination (Mac, EHD, NAS, cloud storage etc.)
The more information you provide, the faster we'll be able to analyze and troubleshoot the issue.